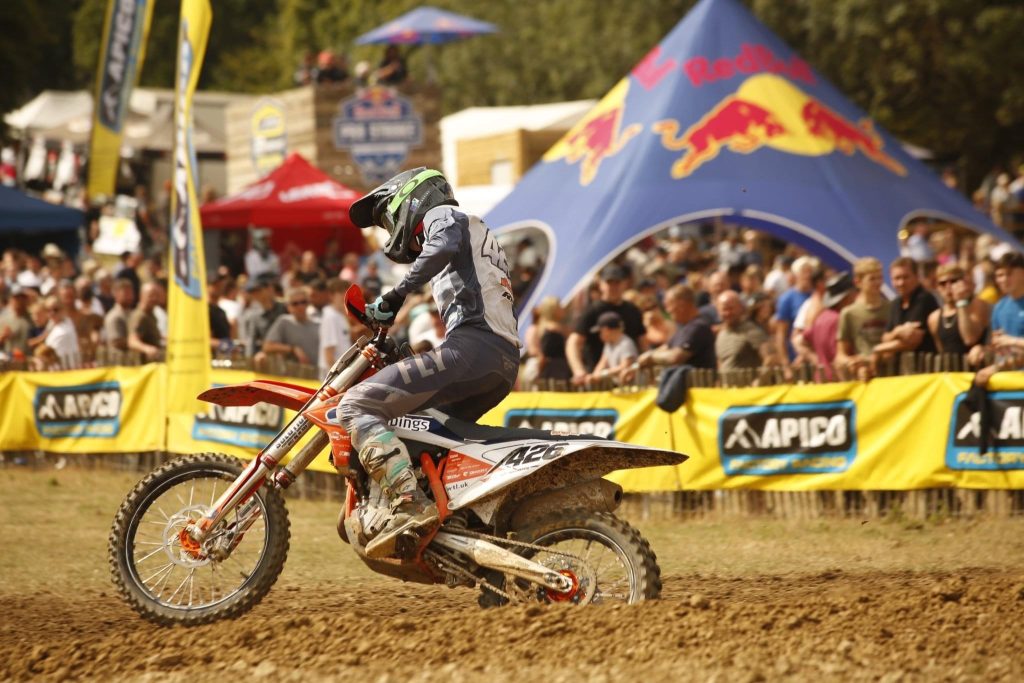 The Apico 2-Stroke Festival is gathering speed as the UK's top adult and youth racers sign up for the two-day event which will be held on Saturday the 22nd and Sunday the 23rd of July at Sellindge, Kent.
Money-saving advance spectator tickets can be booked on-line for just £10* per person for the whole weekend, saving the hassle and additional cost of paying on-the-gate. Under-12s can gain admission free-of-charge and overnight Friday/Saturday no-frills, space-only camping is just £10.
The weekend is set to witness incredible and close racing across a range of classes that cater for young small-wheel 85cc riders right the way through the ranks to reigning British MX Champions – Tommy Searle and Conrad Mewse – together with Pro level competitors, each vying for a share of the considerable prize money. With £12,000.00 on the table for the Red Bull Pro Stroke Nationals, paying out to 10th place per race across both MX1 and MX2 classes, they'll take no prisoners when the start gate drops.
Elsewhere, there are ACU-sanctioned British Championships to be won for novice and clubman-level 2-Stroke enthusiasts, which will also attract prize money. For the youth contestants, there is the chance for two riders from the 85cc and 125cc classes to earn ambassador status, and a top-value £2,500 prize, with high-end MX clothing and protection specialist Leatt.
Sticking with the affordability angle, the individual rider entry fee for all Apico 2-Stroke and Red Bull Pro Stroke Nationals classes is just £62.50.
CLICK HERE to enter online via Go Race MX.
As well as the competitive on-track action, there'll be a fun mechanics/pit bike race, try out sessions on a purpose-built taster track, Traxxas remote-controlled vehicle have-a-go, trade stands, and catering available throughout the weekend.
Racing starts from 9am each day.
Classes – Saturday and Sunday:
ACU British 125 two-stroke
ACU British Open two-stroke
ACU British Evo two-stroke
ACU British Super Evo two-stroke
Red Bull Pro Stroke National Clubman MX1
Red Bull Pro Stroke National Clubman MX2
Red Bull Noughties (age 25 + machine year 2000/2008)
Over 40s Open 2- stroke
Youth 250F
Youth 125
Youth BW/SW85
Sunday only:
Red Bull Pro Stroke National MX1/MX2
On-line spectator booking is now available CLICK HERE!
*Plus booking fees.
Pictured: #426 Conrad Mewse at the 2022 Apico 2-Stroke Festival.
Image credit: Adam Duckworth Photography.