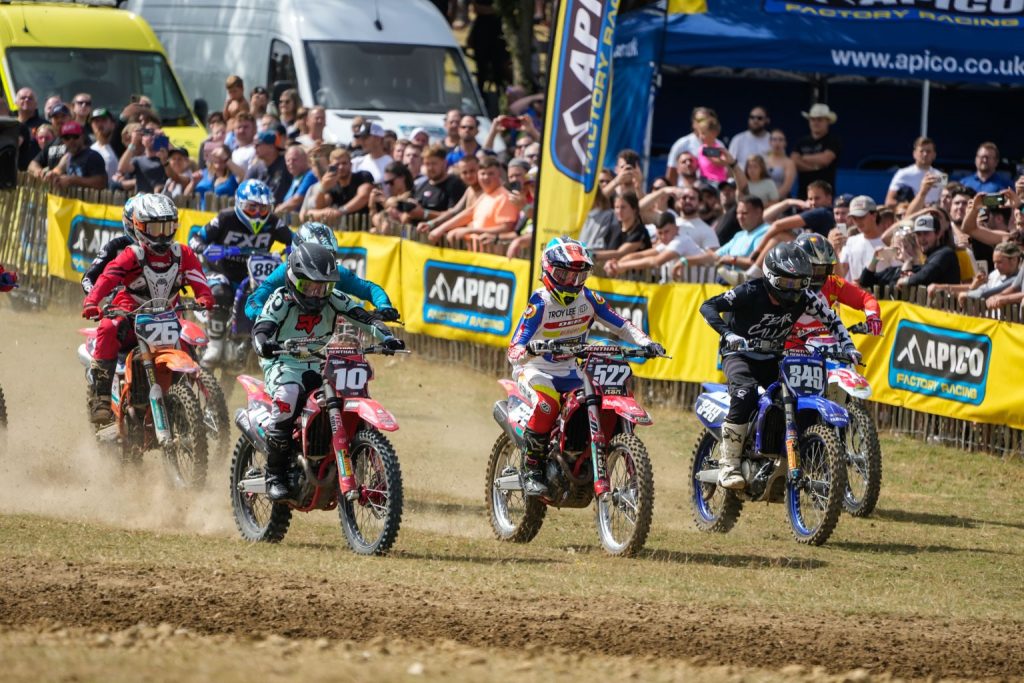 The Apico 2-Stroke Festival, featuring the Red Bull Pro Stroke National is ringing the changes for 2023 with a substantially increased cash and product prize fund, more racing for club standard riders, unique 'glory day' classes and increased exposure for youth riders.
The organising club aims to offer something to all levels of motocross rider at its two-day event to be held over the weekend of the 22nd and 23rd of July at Sellindge in Kent. It already has a great track record of being popular with riders of all ages and abilities and intends to improve on that this year.
For the grass-roots rider, there are MX1 and MX2 Clubman Open groups, which could encourage those regular track day riders to get stuck in and have a go at racing within the same programme as national and international Pro level racers.
Then there's the Red Bull Noughties, which forms an exciting part of the Apico 2-Stroke Festival, delivering a unique class of 2-stroke motocross machines from the glory years of 2000-2008. These machines are something special – a real blast from the past. Anyone owning a machine from this era will love this class, where banging old-school 2-stroke racing meets modern-day technology.
The Apico Over 40s Open 2-Stroke is another class that is all about having fun, rather than flat-out speed. Plus, there'll be spot prizes allocated across all groups. Whether the rider is out front, in the middle, or towards the back of the pack – all competitors will be in with a chance of being rewarded.
Two lucky riders contesting the Youth groups will have the chance to become Leatt-supported riders and scoop a prize with a value of £2,500. And, if there is enough interest and entries booked in the 85cc sector, the small and big wheel classes will run separately, giving the younger riders the chance to shine on track.
Finally, when the big guns roll out, the riders seeking victory in the Red Bull Pro Stroke Nationals on the second day of the Festival weekend, have an even greater incentive to get on the leaderboard, as promoter Dave Willet has doubled the prize fund with a £12,000.00 pot of cash up for grabs across both MX1 and MX2 classes. A meaty £800 per race – two per class/per day – will be available to the winner. with prize money paid down to £100 per race for 10th.
Allowing all riders to be part of the Festival has been an important element of the event for organiser Willet; "We want everyone to race safe and feel comfortable while doing so. We feel that, with our range of classes, we're catering for all and believe we are setting the scene for some great racing. What's more, with the latest development for the Red Bull Pro Stroke Nationals, we believe we're providing the biggest prize fund for a single one-day motocross competition in the UK. That's progress!"
Entries are available via a link on the Apico 2-Stroke Festival website. Classes are filling up quickly, with some close to capacity.
Classes – Saturday and Sunday:
ACU British 125 two-stroke
ACU British Open two-stroke
ACU British Evo two-stroke
ACU British Super Evo two-stroke
Red Bull Pro Stroke National Clubman MX1
Red Bull Pro Stroke National Clubman MX2
Red Bull Noughties (age 25 + machine year 2000/2008)
Over 40s Open 2- stroke
Youth 125
Youth 250F
Youth BW/SW85
Sunday only:
Red Bull Pro Stroke National MX1/MX2
ENTER HERE from just £62.50.